• What happens if my stack of Floppy Disks turns empty and I need to draw a new one?
Shuffle the discard pile of Floppy Disks to make a new pile.
• What happens if my Spaceship ends on the central space of the board?
A Spaceship cannot end a movement on this space. Your Spaceship "jumps"over the spaces and continues to move in the same direction..
Skipping the central space means you also skip the two accelerator spaces you find just before and right after the central space. In this specific cas, you always move four space at least.
• Que se passe-t-il si ma pile de Disquettes est vide et que je dois en piocher une nouvelle ?
Mélangez la défausse des disquettes pour composer une nouvelle pile.
• Que se passe-t-il si mon vaisseau finit son déplacement sur la case centrale du plateau ?
Un vaisseau ne peut pas finir son déplacement sur cette case. Votre vaisseau "saute" la case et continue donc son déplacement dans la même direction.
Un déplacement sautant la case centrale saute aussi les deux cases d'accélérateur juste avant et juste après. Ce déplacement fait toujours au moins quatre cases.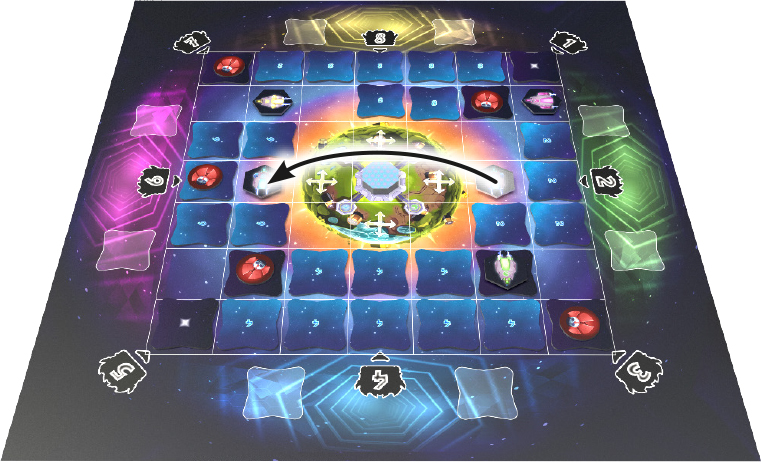 • What happens if a Creeper ends up moving on an Accelerator space
?
Nothing ! Creepers are NOT affected by the power of Space tiles.
• Que se passe-t-il si un Creeper finit son déplacement sur une case Accélérateur ?
Rien ! Les Creepers ne sont PAS affectés par le pouvoir des tuiles Espace.
• ERRATA p11 : Press a Fire Button
Your Spaceship fires towards the edge of the Board of the same color. The shot goes in a straight line, crosses the empty squares until it hits: The edge of the Board / A Creeper / The central planet space / Another Spaceship
• ERRATA, p11 : Appuyer sur un bouton tir
Votre vaisseau effectue un tir vers le bord du plateau de la même couleur. Le tir part en ligne droite, traverse les cases vides jusqu'à percuter : Le bord du plateau / un creeper / La Case planète centrale / Un autre vaisseau