As you may have noticed, the Spiel des Jahres 2016 nominations have been revealed. It reminds me on my first day of work at Ludonaute, last year. I was just arriving in the living room where Cédric & Anne-C used to work. As I was taking place in front of my beautiful new computer, Cédric was showing a great deal of impatience signals, the most clear of them being regularly murdering his F5 key. Suddenly, there was a joy explosion! We were nominated! And I discovered that my new boss was able to jump quite high.
It was cool. It was even cooler when we actually won the price in July (even though I was unlucky enough to miss the ceremony because I was asked to wear a saloon girl suit – painful memories – but this is another story).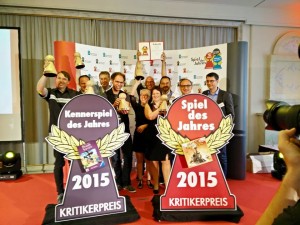 Memories.
Anyway. This year is far more calm for us and we were happy to just sit around a table and play some of the nominated games. As a reminder, here they are!
For the classic price: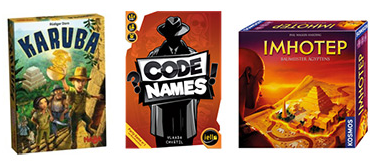 For the expert price:

We don't have the same opinion on these games among the team, and we haven't played some of them yet. However, we must admit that we have played Karuba twice or thrice in a row, each game being more stressful than the last one. An innocent child passing by, and seeing us all sweating, even asked us if we were playing a speed game. After that, we relaxed a bit (I shouldn't have, I lost).
On the Kenner side, we hope that originality will be the first choice!
This being said, we can't wait until July to know the winners. Congratulations to the nominated teams!
—
Marinella