Insider's Diary Part 1: Marshal & Prisoners expansion – Origins
Each game and each expansion has its own story. Marshal & Prisoners doesn't make an exception.
June 2014 – 2:03 PM
Paris Games Festival – Ludonaute Booth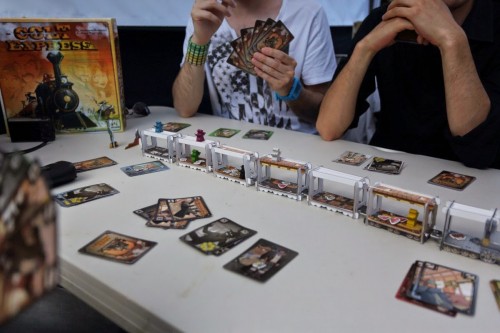 By a sunny day, we are presenting the prototype of Colt Express to gamers. The game is going to be published in October. I am not expecting what Anne-Cecile is going to tell me:
"We have already really good feedbacks for Colt Express from players, shops and our distributor. It would be great if you start working on an expansion."
My rational me begins:
"But the game is not even released yet!"
My dreamy me goes on:
"You think it could work?"
My childish and fanciful me concludes:
"Ok but only if there is a stagecoach in it!"
Then, I start to put all my ideas in a big file, each intercalary containing a different game rule about a wide range of stuff:
A rule about drunk cow-boys

A rule about Indian attacks

A rule about a Poker game phase

…

AND

a rule allowing a player to play the Marshal
I initially wanted to give the players the tools to master the settings of their game. I wanted them to choose which elements they will add to their games. I'm a huge fan of Escape for this reason.
Then, we spent a lot of time playtesting all these new ideas. I regret that we only kept approximately a quarter of those.
Anyway, I'm happy: players will get this toolbox I was dreaming of to create their own Colt Express experience…
But, following events have shown there were still too much rules remaining…
February 2015 – 4:37 PM
Cannes Games Festival – Ludonaute Booth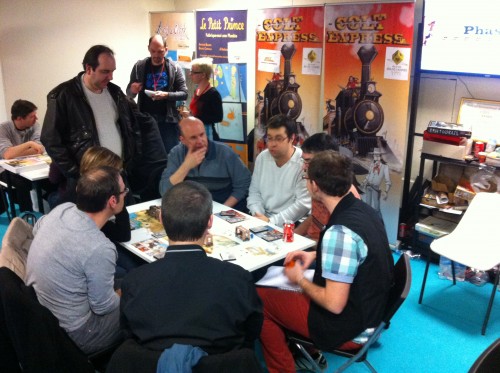 Cedric is coming back to the booth with a strong headache. He has just tried to explain to the interested players the new expansion contents:
A stagecoach

Horses

Hostages

Prisoners

A Prison Wagon

A Marshal player

…
One more time I am not expecting what Cedric is about to say:
"Do you mind if we split these ideas into two smaller expansions? There are definitely too many things for only one!"
My rational me begins:
"Is it a marketing strategy?"
My dreamy me goes on:
"It could allow to create combinations of rules that are matching perfectly together. It would help players to create their own experience."
My childish and fanciful me concludes:
"Ok but only if there is my stagecoach in the first one!"
And this is how the "Horses & Stagecoach" adventure begins.
Well, didn't you say that you were dealing with Marshal & Prisoners in this article?
Yes, true! I have forgotten, it will be for the next time!
Well, this feels exactly like the ending of a How I Met your Mother episode…
In the next article, you will finally know everything about the second expansion development: Marshal & Prisoners.